Several organisations have set up formal (but welcoming!) arrangements for people to call in and spend some time.
At present the following spaces are running:
Mondays: Lymm Baptist Church (opposite the Shell petrol station) Mondays, 10:00 to 15:30 hrs (update 19/02/2023 - the Baptist Church is no longer an 'official' warm space on Mondays, however they are still open, and folks are welcome to drop in during these hours - drinks / snacks should also be available still!!!)
Mondays: Lymm Sanctuary Hub and Lymm Library Yourlivewire Libraries have now joined the Warm Spaces national initiative, for those who may benefit from a hot drink and warm space. This venue runs Mondays 14:00 to 16:00 with more details to follow
Tuesdays: Sanctuary cafe (next to Lymm Library) on a Tuesday - open 09:00 till 15:00 hrs (open Tuesday - Friday, and 09:00 till 16:00 on Saturdays)
4th Wednesday of the month - free film showing typically from 13:00hrs at Lymm Youth and Community Centre (downstairs, entrance next to Saddlers). Start times vary. Details via Facebook and flyers outside LYCC in the preceding days. 
Thursdays 09:30-12:30 Lymm Youth and Community Centre (assumed the top entrance by the car park / canal). Free toast and hot drink.
Fridays: Lymm Methodist Church (on Eagle Brow) on a Friday -  open 10:00 to 15:00; light refreshments, free wi-fi, games for all the family.
7 days - the Star Inn, Star Lane Statham (Mon-Fri 3pm-12am, Sat 1pm-12am, Sun 12pm-11pm - Location Features: Free Wi-Fi, Device Charging, People to chat to, Space to work, Food/Drink for sale, Toilets, Parking, Child Friendly
See warmspaces.org for spaces that have registered in Lymm & the surrounding area (not all of the above are registered on the warmspaces.org site).
(there are more events that are not specific 'warm spaces' - e.g. meals at Oughtrington Community Centre, Methodist Church regular lunch slots, Youth & Community Centre regular meet ups)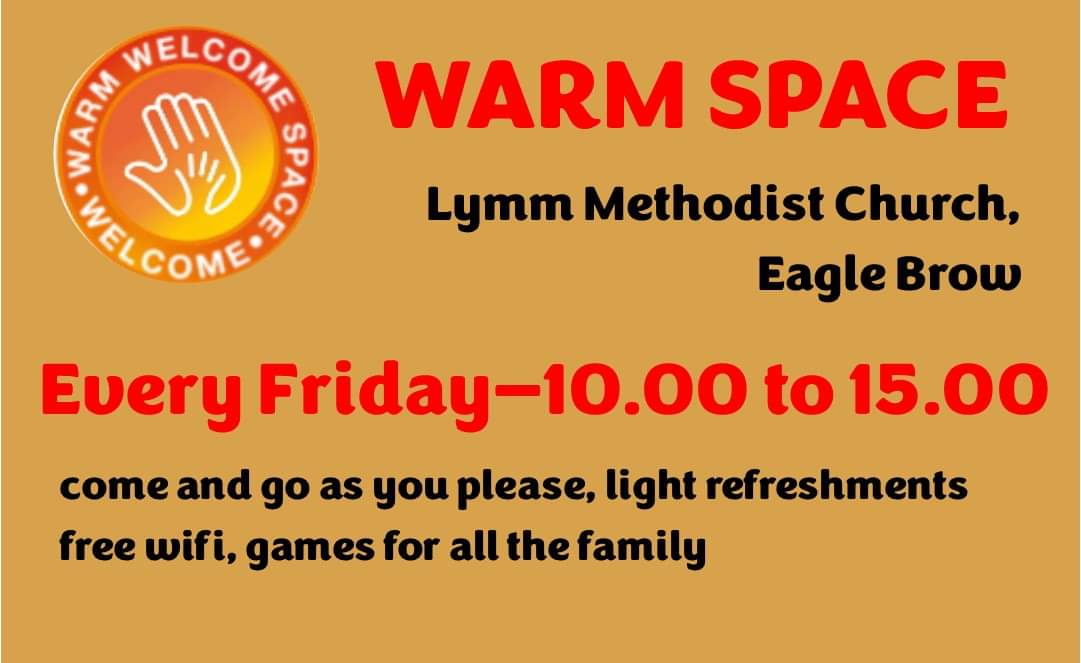 Changed
9 months 2 weeks ago