Covid Graphs for Lymm
Simple static charts showing the daily "7 day average case rate for Lymm" as a snapshot.
The graphs show the "7 day average" so have been smoothed. Large daily changes probably show significant changes for that day.
The chart shows "two" cases for days when cases were "fewer than three".
The data for these charts comes from the website: Gov.uk cases by area (interactive map - enter postcode or zoom in for Lymm) - using data as published, where the UK Government has corrected data retrospectively (e.g. around November 2020), this has not been updated for these graphs.
Key restriction dates have been highlighted on the bottom (third) graph for waves 2 & 3
These charts will be updated occasionally. These charts show the date tests are reported, which are always 5 days previous to the publication date.
Graph since Summer 2021 (updated on 06/02/2022 for data up to & including 01/02/2022):
(showing data from the period of low infections in late June 2021):

Full dataset (updated on 06/02/2022 for data up to & including 01/02/2022):
(the same data as above, but for a longer time period)

Dataset to spring 2021:
(showing the same data as above, but with key timings overlaid on the graph, and only up to the drop in infections in April 2021 - adding more dates to this compresses the graph)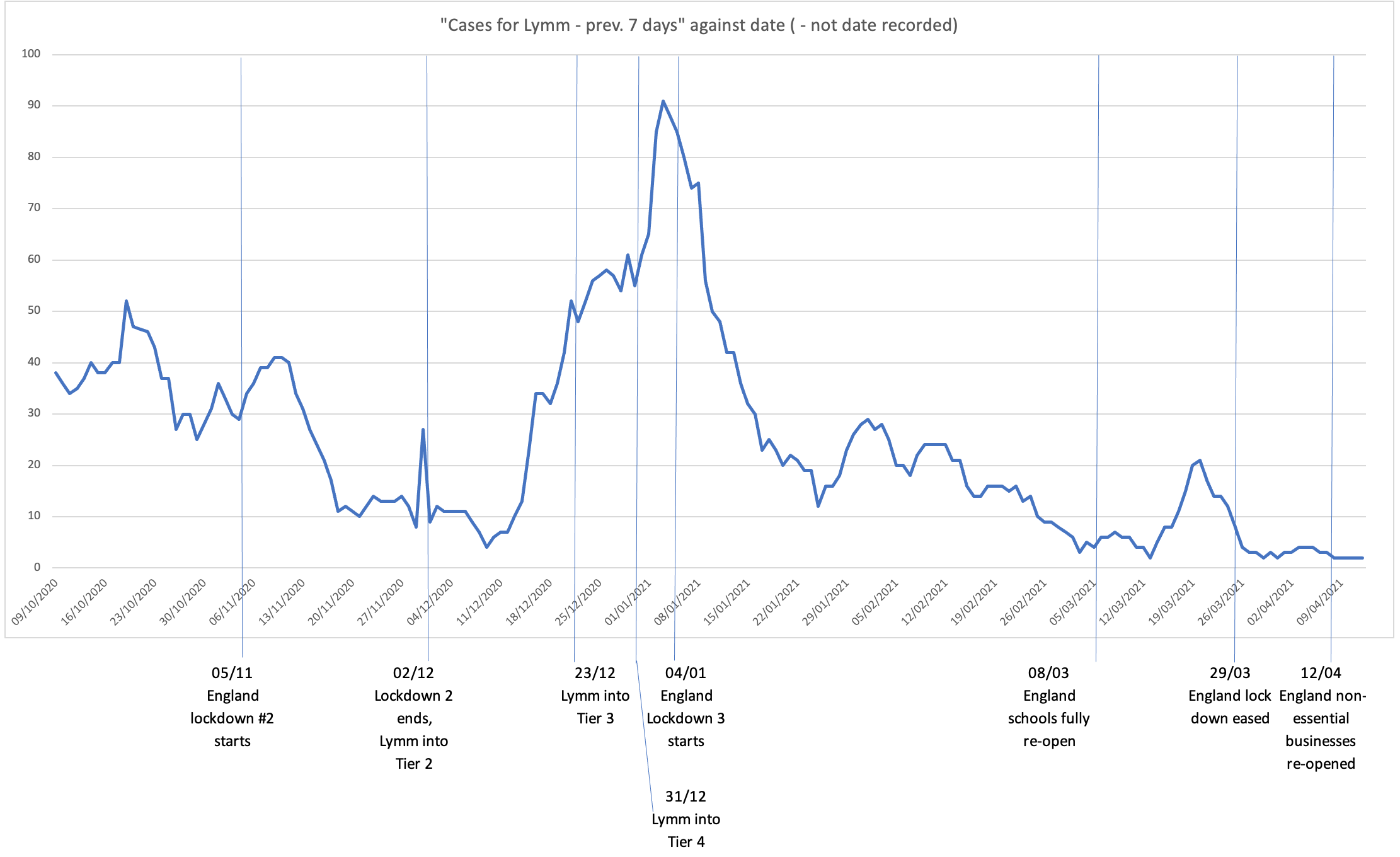 Covid key restriction dates:
25th November 2021 Omicron Covid-19 Variant announced in Switzerland, 26th November 2021 first Omicron case detected in UK (announced on 27th November)
Around w/c 11th Oct 2021 & 18th Oct 2021, local schools started to re-introduce measures (mask wearing in communal spaces at LHS, returning to summer term restrictions at some primary schools) to mitigate against the spread of Covid amongst school children
The majority of English Covid restrictions (those enshrined in law) were eased from 19th July 2021 (mask wearing in most public spaces became 'optional', all indoor hospitality can open)
Further restrictions were eased in England from 17th May 2021, with non-essential indoor hospitality opening (pubs, restaurants, cinemas, sports venues - with social distancing & mask wearing as appropriate). Groups of six or two households can meet indoors.
Non essential businesses opened from 12th April 2021 (hairdressers, shops, pubs & restaurants for outdoor dining all opened)
Social visiting, outdoor sports, travel restrictions eased from 29th March 2021
England started to ease Lockdown #3 from 8th March 2021, when all schools in England re-opened to all pupils, mostly with a 'Big Bang' (Wales, Scotland & NI chose a more phased approach)
England was placed into Lockdown #3, announced at 20:00hrs on 4th January 2021 (at the end of the first day of school term), effective early morning 6th January 2021. Primary schools were mostly back for a single day on 4th Jan, and advised that they were to close at 20:00hrs on 4th Jan. Of the Lymm Primary schools, only Ravenbank  did not open on 4th Jan. Lymm High School remained closed after Christmas (secondary schools had expected to open from 18th Jan)
Lymm moved into Tier 4, announced on 30th December 2020, effective early morning 31st December 2020
Lymm moved into Tier 3, announced on 23rd December 2020, effective early morning 26th December 2020. Tier 3 allowed pubs & restaurants to serve takeaway food only.
Lymm was placed into Tier 2 on 2nd December, following the lifting of Lockdown #2. Tier 2 was allowing pubs & restaurants to open for 'substantial meals' only.
England was placed into Lockdown #2, announced on 31st October and effective from 5th November 2020 to 2nd December 2020. Schools remained open for Lockdown#2
England went into Lockdown #1, suggested on 16th March, announced on 23rd March 2020 and put into place from 13:00hrs on 26th March 2020. Lockdown #1 started being eased from 1st June 2020
Changed
11 months 4 weeks ago